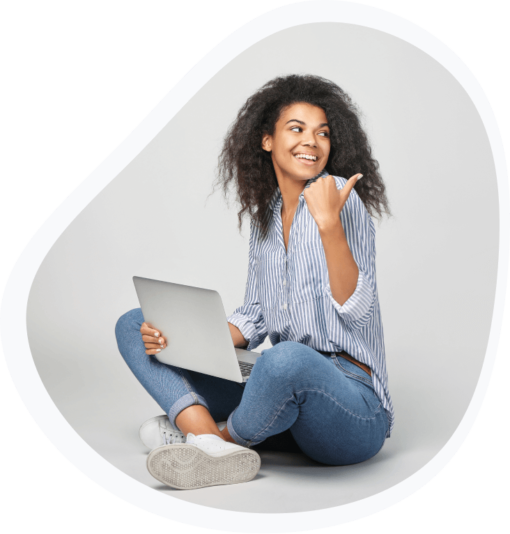 Get More Customers with Less Effort Using

AI-Generated Ads
Supercharge your eCommerce store's ads with AI! Instantly receive tailored ad suggestions and launch them effortlessly with a single click. Experience the future of advertising now!
Create Your Ads Smarter and Faster
groost streamlines your eCommerce ad creation process for Facebook and Instagram, leveraging artificial intelligence for rapid results at unmatched costs. Experience swift, effortless ad design powered by our advanced AI technology, and elevate your ad quality and results.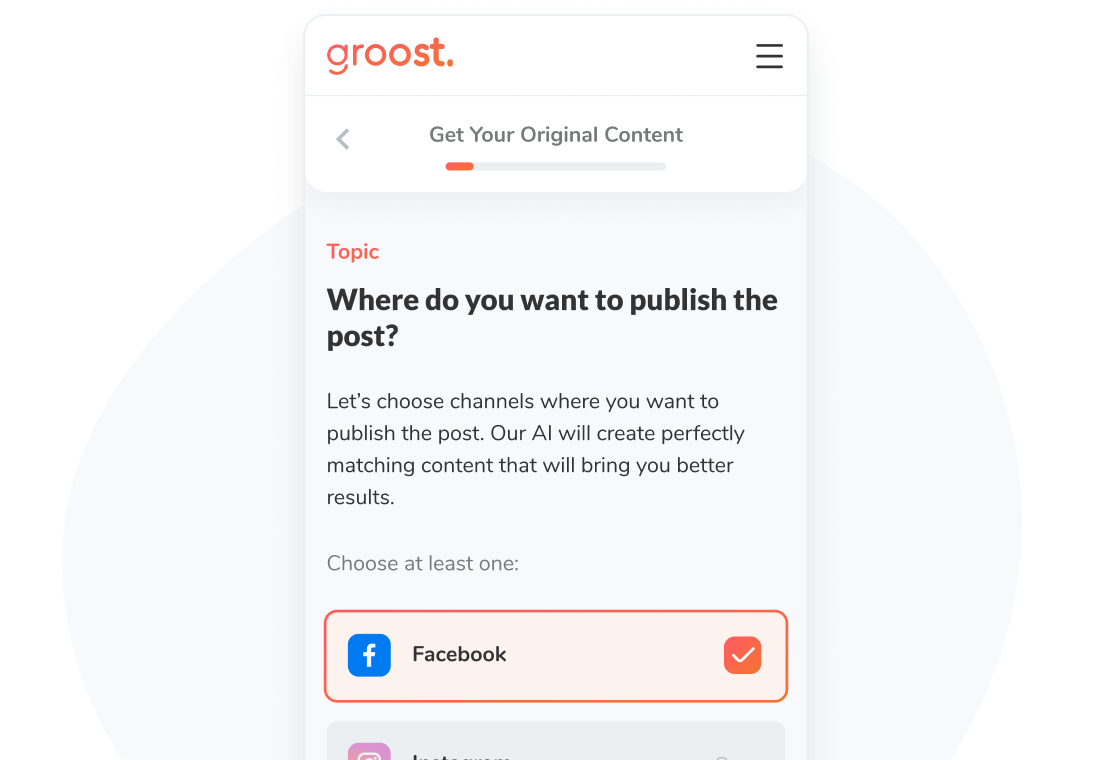 Get Creatives for Your Ads Instantly
Unleash the power of AI to generate top-performing ad creatives tailored to your online store data. Simply pick your preferred creatives, add your personal touch, and effortlessly launch the ad on your Facebook page or Meta Ads Manager with just one click!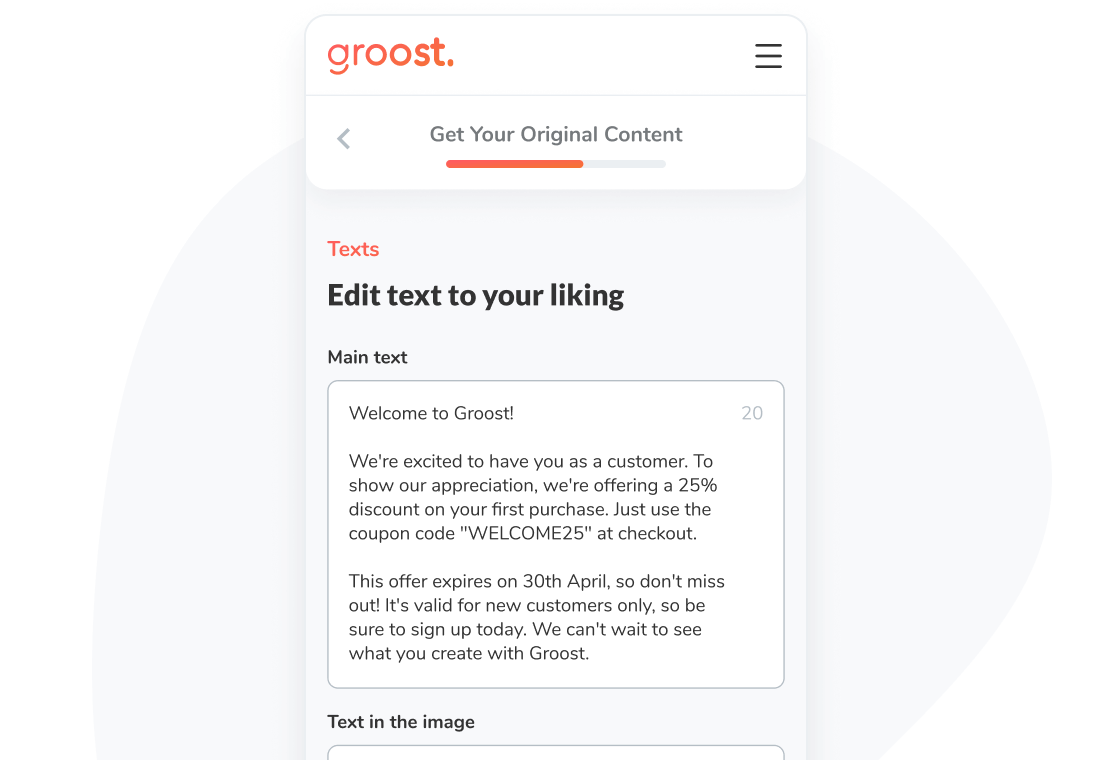 Elevate Your Content Quality
Bring More Sales With Engaging Content
Outsmart the competition by crafting AI-generated ads that captivate and convert! Leverage groost's cutting-edge AI, data-driven analytics, and your eCommerce data to stay ahead in the advertising game and build a powerful sales engine.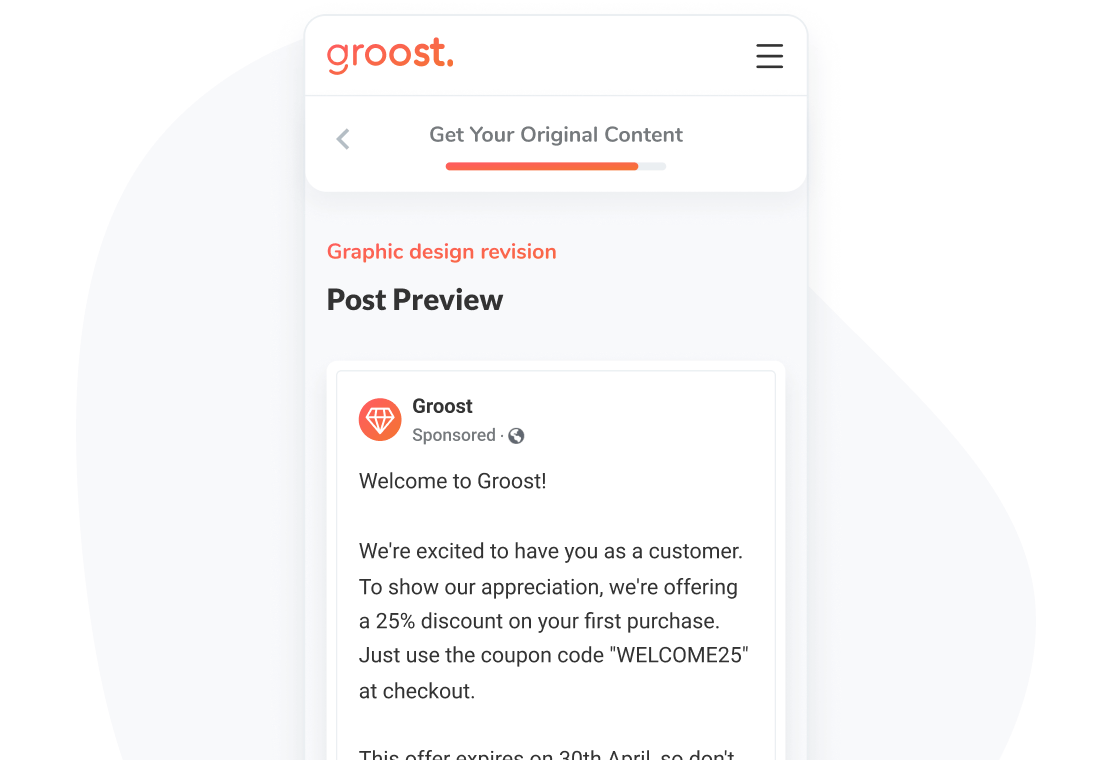 Gain More Customers with the Same Ad Spend
Amplify your return on investment: Create new ads effortlessly and test them daily to discover top performers. Continuously refine your ad strategy by comparing successful ads with fresh alternatives, driving constant growth to your sales.
Get the Best Bang For Your Marketing Buck - Guaranteed
Try groost now! It will change how you market your eCommerce business forever – in less than 5 minutes.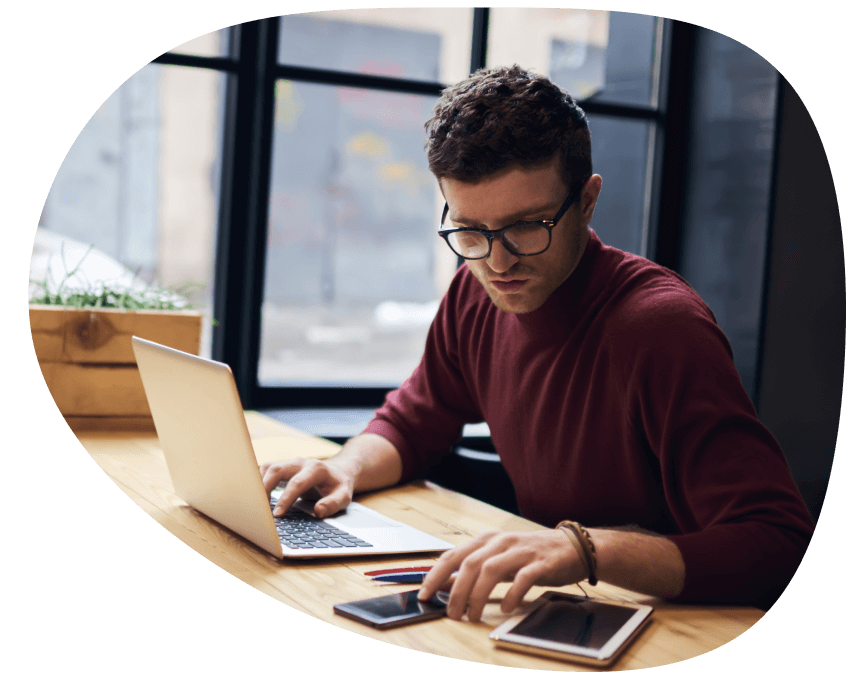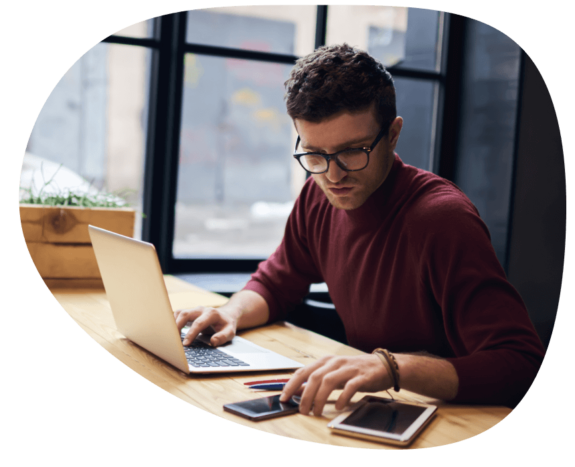 How it works?
Revolutionize your eCommerce store's advertising strategy now! Unleash the power of AI to effortlessly generate captivating ads that attract customers while saving time and effort.
Get Original Ad Suggestions In Seconds
Connect your eCommerce store to groost, and watch groost's AI generate unique ad creatives that will resonate with your target audience and help you reach your goals.
Choose from AI-Generated Creatives
Select the ad suggestion that resonates with you the most. Customize it effortlessly to align with your brand voice and make a great impression.
Publish It With One Click
Connect to your Facebook or Meta Ads Manager and publish your ads with a single click! With groost you'll always keep full control of all your posts, ads, and budget in your ad account!
Why eCommerce Owners Love groost?
Use groost to take your store to new heights like many savvy eCommerce entrepreneurs! Start today and see for yourself how far you can go with our AI at your hand.
I don't know how I ever managed to create ads and posts without Groost. It's incredibly easy to use, and the results have surprised me. The value you get for the money is unbelievable.

We use groost daily to create Facebook posts and ads for our ecommerce business. Our team loves groost, and most importantly, the results have been excellent!

I was really impressed with the quality of the ads groost generated for me. The whole process was so quick and easy, and the result was exactly what I was looking for. Groost makes managing my Facebook fun.

Replacing a marketing agency with a tool? I was skeptical at first, but after using groost I'm a total believer! This tool has saved me so much time and money. Groost is an absolute game-changer!

I recommend Groost to anyone who wants to create ads quickly and easily. The AI is really impressive and does all the work for you. As a business owner, I appreciate that I can manage everything from my mobile.
Grow Your Ecommerce Business Using AI
Create Facebook and Instagram Ads Faster, Smarter, Cheaper and With No Sweat!
Get Your Ad Creative Ideas on Autopilot
Connect your eCommerce platform to groost and get high-performing ad suggestions in seconds. Even without writing any prompts.
Create Authentic Content, Fast
Give your human touch to our AI-generated copy and edit it to match your voice. Add thumb-stopping images and videos.
Publish directly to Meta
Connect securely to your Facebook account and publish directly to your page or the ads manager with one click.
Level up with a professional marketer
Get help from our team of vetted copywriters, designers, and media buyers to further upgrade your content and take it up a notch.
Enjoy our premium customer support
Our team is always ready to help you succeed! Get help by chat or email.
Use groost to Create Engaging Ads And Boost Your WooCommerce Store Profits
Connecting with potential customers to get more leads and sales to your eCommerce store has never been easier!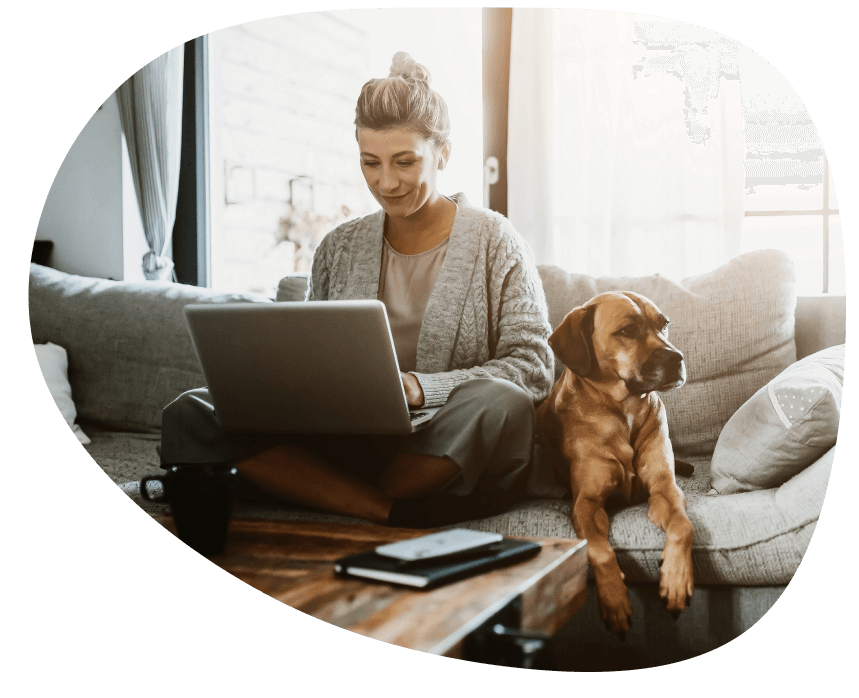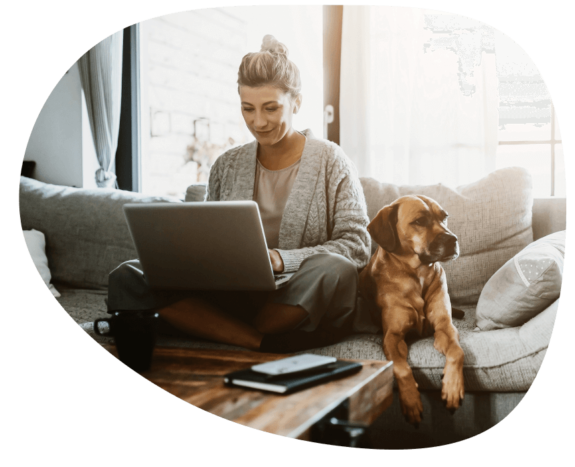 Frequently Asked Questions